We missed so many opportunities during the pandemic to celebrate the work of all the writers and artists that we have the good fortune to work with and we wanted to take this opportunity at Oireachtas na Gaeilge to shine a light on some of the work we published during that time.

Proinsias Mac a' Bhaird hosted the event at the Gleneagle Hotel and we were thrilled to see so many familiar faces. Proinsias shared some very kind and generous words about the four publications. He identified the books being celebrated as gems, not only for Irish literature, but as contributing greatly to world literature.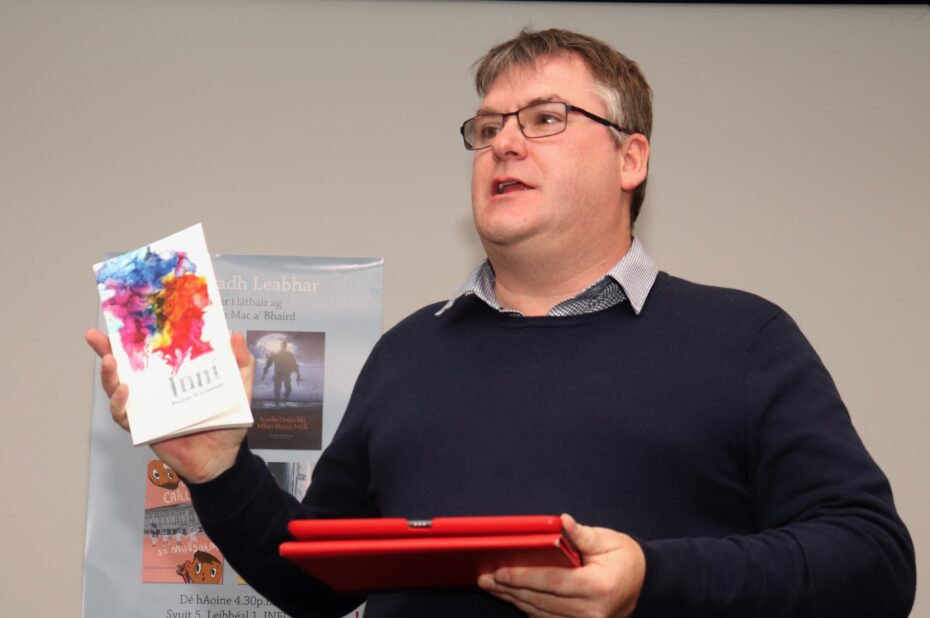 The first book in the spotlight was Scéalta ó m'Óige by Nuala Ní Ghallchóir "A social document" according to Proinsias "that offers insight into the world a 100 years ago." Proinsias tells us how much he enjoyed the book summarising it as a book that is "highly enjoyable, full of humour and the best of Irish writing in it." "While some writers at the time chose to focus on the misery of life in the Gaeltacht," said Proinsias "Nuala instead wrote from a positive perspective, an idyll through the eyes of a child."


Caoilte Caillte sa Mhúsaem by Gemma Nic Conchra. "It's not words alone that are needed to awaken the interest of the younger reader, but illustrations, divilment and craic are needed too." said Proinsias "All of these elements are there in Caoilte Caillte sa Mhúsaem". One of the aspects the Proinsias enjoyed most about the book is the innocent style of the drawings, the kind of pictures a child might draw. According to Proinsias "there is a special talent needed by an artist to be able to create pictures that capture the innocence of a child's drawing."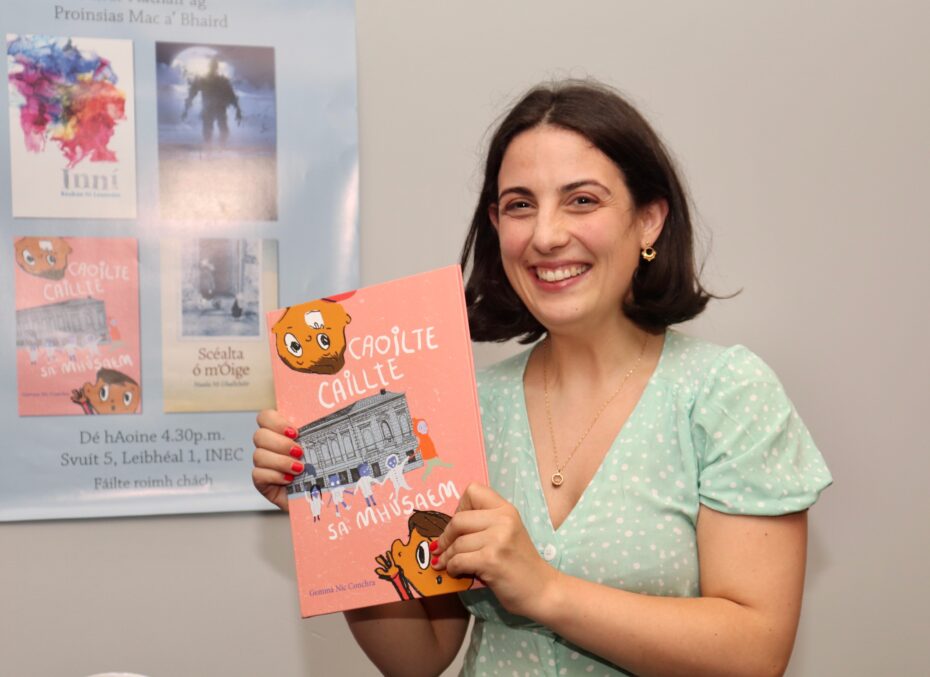 Gemma read a small part of the book, and then gave us a little insight into her thought process when creating Caoilte. When a freind told her that as a child he had enjoyed books that were full of detail, Gemma explains that this comment set her thinking and with that any minimalist style went out the window.

Next up was Scéalta Draíochta Mhicí Sheáin Néill, a collection of folklore stories of Mhicí Sheáin Néill, put together by Caitlín Nic Niallis. Proinsias marvels at the incredible richness of storytelling that came from the small area of Rann na Feirste. "This is a hefty book with 18 stories from Micí Sheáin Néill, gathered by Caitlín Nic Niallais. When we read these stories we can enjoy the imagination and perspective of the people who went before us." Proinsias tells us: "We can hear the rich natural Irish language of the story telller." According to Proinsias, it is books like this that are vital for preserving the story telling tradition for the generations to come. Lia, Caitlín's daughter read a small excerpt from the book.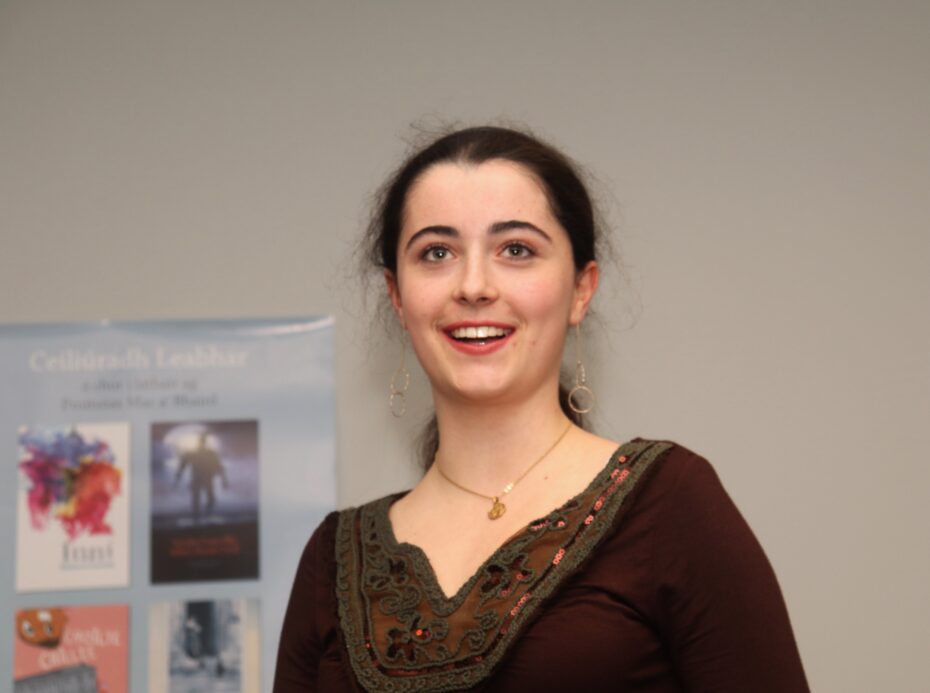 The last book to be celebrated was Inní, by Réaltán Ní Leannáin, queen of the short story, according to Proinsias. Most of the stories in this collection are concerned with the lives of women, their struggles and difficulties. According to Proinsias, Réaltán has no fear when dealing with issues that are difficult or heavy. But even though they are difficult issues, this is not a book that depresses. "The themes might be heavy, but you are not left with a heavy feeling having read the book. There is a hopefulness in many of the stories. Inspiring stories, stories that will make you laugh, but might draw a tear from you too. She creates believable characters and events that make us think." Proinsias describes it as a hugely enjoyable book, written by an author at the height of her career.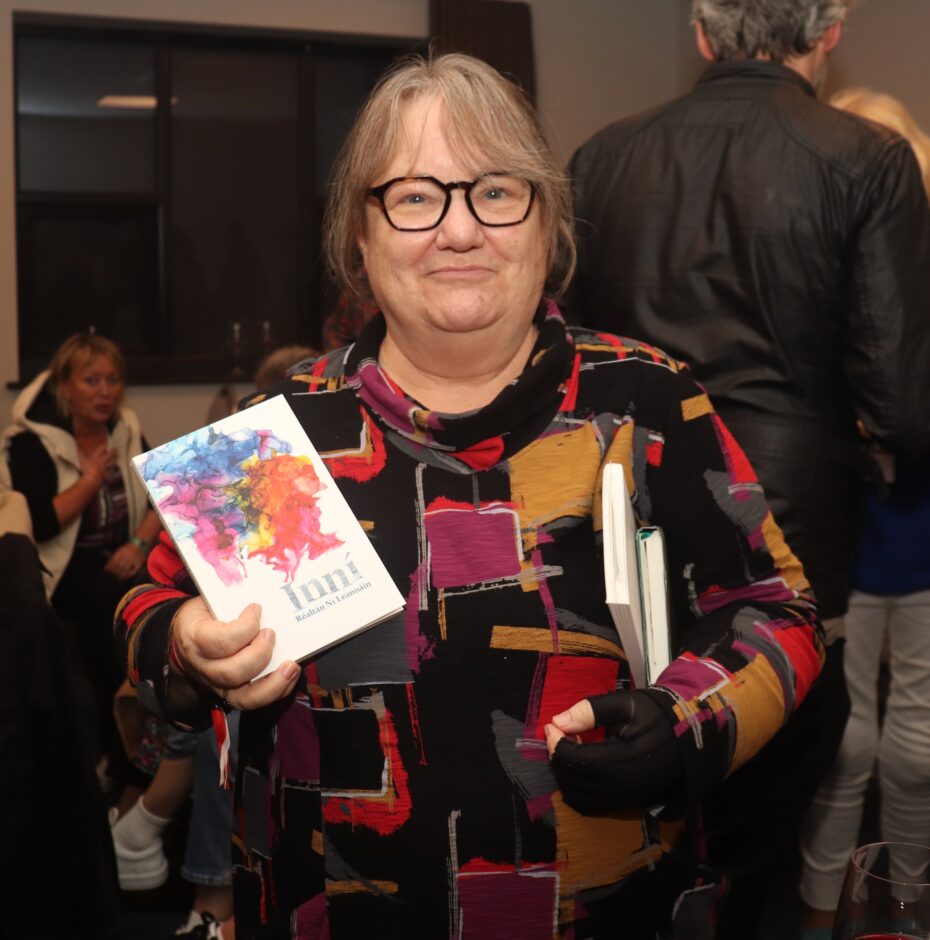 Eoghan Mac Giolla Bhríde gave his thanks to the writers that Éabhlóid has worked with, to COGG and Clár na Leabhar Gaeilge for their support. He also thanked Caomhán Ó Scolaí and Mícheál Ó Domhnaill who he says are central to the success of each book published by Éabhlóid.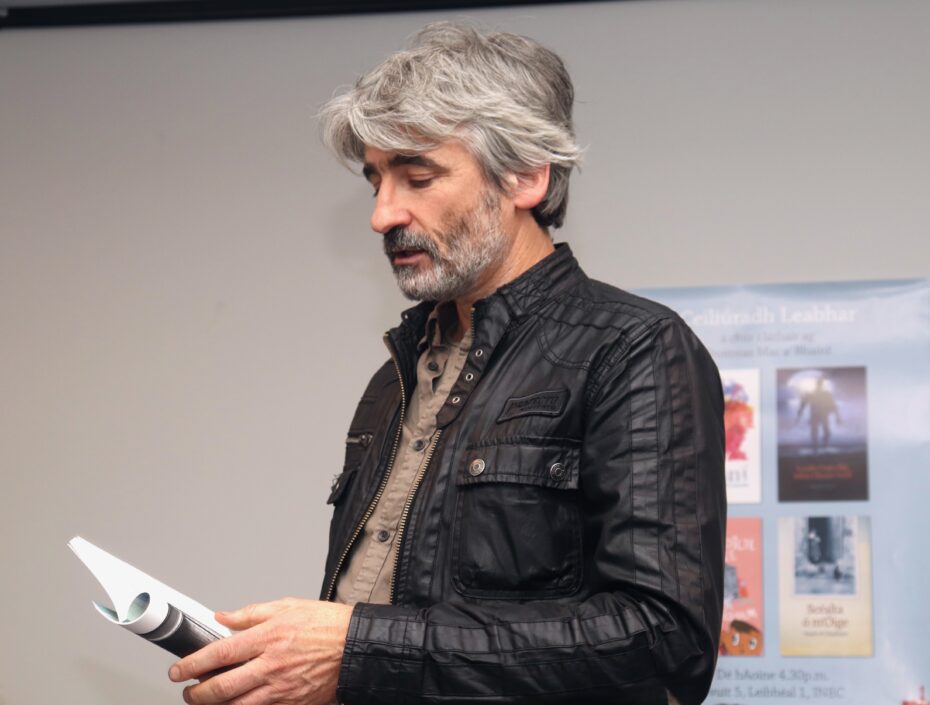 Caitlín's children then delighted us with their gorgeous close harmony singing. Accompanied by piano, they chose two songs that are very dear to the Rann na Feirste area.
The four books are available at the links below:
Scéalta Draíochta Mhicí Sheáin Néill le Caitlín Nic Niallais
Scéalta ó m'Óige le Nuala Ní Ghallchóir
Caoilte Caillte sa Mhúsaem le Gemma Nic Conchra